Taranaki's young artists celebrated at Taranaki Foundation Emergence Award's ceremony
3 August 2022

On Friday evening, over 200 people gathered for the 2022 Taranaki Foundation Emergence Awards opening gala night at Percy Thomson Gallery.

Taranaki Foundation is honoured to be supporting this wonderful Taranaki based celebration of art and creativity through the Taranaki Hauora Fund which was established in 2018 in memory of Leon Squire, son of Kelvin and Carolyn Squire. Creativity is at the heart of the Fund, with flexibility to support the hauora (well-being) of rangatahi (young people).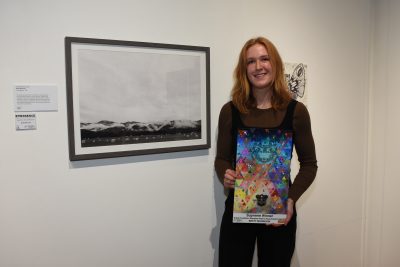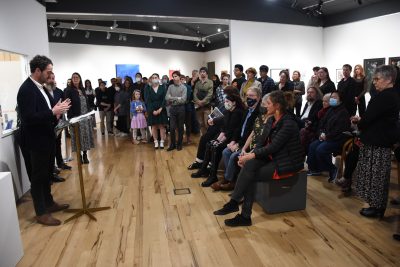 Taranaki Foundation chief executive, Josh Hickford says sponsoring the awards was a pleasure.
"These awards unearth such an amazing pool of talent and allow the young artists to show their works. I want to congratulate everyone who entered, the winners and the entrants, it was hard to pick winners with such a high calibre of work."
"You should all be proud. This is only the beginning of your creative journey."
Congratulations to Brett Morrison (23) who took home the winner's trophy, $2000 cash prize and an invitation to hold her own solo exhibition at Percy Thomson Gallery in 2024 with her artwork "Somewhere South". Brett took the winning photo at Hanmer Springs in January this year when she was travelling around the South Island.
Brett's entry was one of 57 in this year's awards. The works were judged by the assistant curator of contemporary art and collections at the Govett-Brewster Art Gallery/ Len Lye Centre Simon Gennard and curator and exhibitions team member at Puke Ariki Museum Justin Jade Morgan.
Percy Thomson gallery director, Laura Campbell says it's important to give young artists the platform to present their work.
"Emergence is all about providing a rare experience for our young people to show their abilities. It allows young artists to see their work in a public gallery and grow their creative confidence.
"We are so thankful to have so many talented artists being so brave and sharing their beautiful artworks with our community. Congratulations to you all."
The exhibition runs from 29 July to 21 August 2022.
Photo credits: Jeanette Bell
2022 Taranaki Foundation Emergence Awards Results:
Supreme Award: Brett Morrison.
Supreme runner-up: Melissa McCullough.
Toi māori: Molly McCullogh.
Toi māori runner-up: Jamie Carr.
Judges encouragement award: Oliver Leuthart.
Director's choice: Hayley Elliott- Kernot.
Secondary school winner: Jan Alyssa Lamberte.
Secondary school runner-up: Robyn Thorpe.
Secondary school third: Ava Hashemi.
2D painting award: Jan Alyssa Lamberte.
2D non-painting award: Melissa McCullough.
Photography award: Brett Morrison.
View the online catalogue for all 2022 winner and finalists here
Read the Stratford Press news article announcing the winners here