Empowering and enhancing the lives of people living with disability
The Hearing and Visual Impairment Fund was established to help Taranaki people who have a hearing or visual impairment to access equipment or technology that can have a transformational impact on their daily life.
Through the generosity of one of our Taranaki Foundation pass-through donors, we were able to distribute a total of $10,500 via this targeted Fund in our recent Annual Funding Round. The grants allowed six individuals to purchase specialist equipment ranging from fire alarms, hearing aids, a laptop, an exercise bike and an iPad.
"We've been honoured to work with this kind, generous donor to realise her aspirations to help people with disabilities," says Taranaki Foundation Chief Executive Josh Hickford.
Over the last 5 years grants have been given for specialist smoke alarms for deaf children; cochlear impact covers to enable children with implants to be able to hear while swimming or playing sport in the rain; assistive technology for learning and working; a tandem bike for a keen blind cyclist and a static exercise bike to help a visually impaired student keep fit and enjoy movement.
One of the young Taranaki students who recently received hearing aids said, "These hearing aids mean so much to me as I can finally hear what people are trying to say to me. I found it hard to communicate when I only heard bits and pieces of what someone was trying to explain to me but with these hearing aids life becomes so much easier hearing word-for-word. They really are a game changer for me – hearing everything is such a relief."
Local teacher John Edmonds also recently received hearing aids and said he had not previously purchased aids because he was astonished at the huge cost. "I had learnt to get by. I learned to get myself into a better position to hear and I learned to lip read. I struggled in many situations like with colleagues, in social situations, at home, playing rugby and teaching. It was stressful at times with my inability to hear."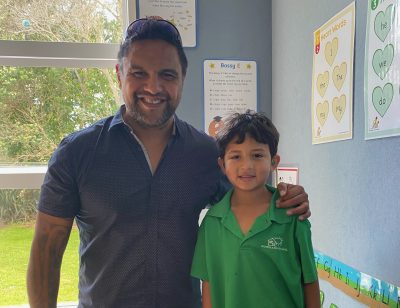 "I never thought that I would be able to have the benefits that hearing aids would bring to my life as an adult. I am now wearing my very own set of hearing aids. They have made an instant and huge impact on me as a person, father and a teacher. They have truly been life changing for me," he added.
The recent funding also helped a young boy who was just starting school.  He received an iPad and earphones to provide increased accessibility to learning. "Because he is deaf, Dayton is a visual learner which is enhanced with visual symbols and pictures. It will make a huge difference as he starts school. The iPad can also be directly linked into his hearing aids, so he can access the best sound possible.  It will help both his language and oral skills." Says Kyla Caldwell, Resource Teacher of the Deaf.
"Thank you for giving Dayton such a life changing gift at this important time in his life," says Mum Francilla Weston.
"I'm thrilled that my funding gifts for individual with hearing and visual challenges have now benefitted 20 people and their families. It gives me great pleasure to hear of the delight and transformation the grants have brought the recipients," says our Taranaki Foundation's donor. "It doesn't take much to make a huge difference in a person's life. For example, many of the grants were between $300 and $1000 and usually no greater than $2,000 per nominated individual."
Click here for a full list of Taranaki Foundation 2021 funding recipients.